Theo Hastings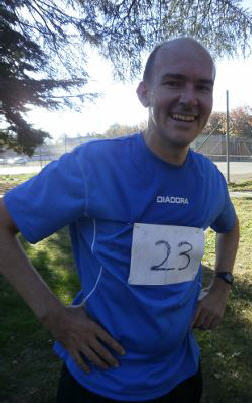 Name: Theo (dore) Hastings
What is your occupation? I originally trained in social work and social policy. I now work as a manager in the NSW Public Service. I work at Ageing Disability and Home Care managing a team of case managers/therapists who work with people with an intellectual disability. I have also worked with homeless people, prisoners, and people with serious mental illness.

Running age group? 35-39
Do you have family? Yes a wife Ingrid – who was a very good 200m runner in her day – and our baby daughter Louisa. I have two older brothers (Thom and Lawrence) and a mother whom I am very close to. I now have three nieces – Isolde, Eleanor and Havana. Sadly my dad has been deceased for 15 years.
How long have you been a Woody? About 7 months. Hopefully this relationship continues well into the future.
Do you run on Tuesday night/TNT/Saturday morning? I run with the Woodies on Thursdays and some Saturdays. I enjoy the challenges both sessions provide me – chasing Kazu on a Saturday and being yelled
by Martin on a Thursday.

Why do you enjoy running? My older brother, who I idolised, was keen about running about the same time I qualified for some representative cross country. As I got older I did it more to recover from the excesses of my social life. More recently I have taken running seriously because I cannot play any sports that require acceleration – I have torn my hamstring four times calcifying the muscle. Distance running is one of the only methods I have available to stay physically and mentally fit.
What is your favourite running distance/course/event and why? Part of me wants to please Martin, Brendan, Anthony and Phil by saying a marathon. Being true to myself I prefer the shorter distances of 5-10km. I would like to reach my goal times in these races before I seriously increase the distance.
What has been your running highlight? The highlight of running has been meeting wonderful people who set inspirational examples (i.e. Dot, Martin, Bronwyn, Susan M, Brendan, Kazu, Rick, John, Phil, Anthony, fast Pete, and my mate Tim aka Freespirit Fitness).

Any lowlights (injury etc)? The struggle that was the Balmain Fun Run 2009 was about as low as I have plunged! The hamstring and lower back is a constant worry.
What was the last race you went in and how did you go? SMC on the 21 February. I was aiming to go under 20 mins for the 5km. I did it in 20:19. I have four more goes this season to get it under the 20 minute mark.
Anything funny/unusual ever happened to you while you have been out running? Funnily no.
What other sports/hobbies are you involved in? I was a handy park cricket player. I scored two centuries (118
and 102) and once took ten wickets in a match (10/86). I played soccer for 25 years solidly not spectacularly. I am a keen reader of philosophy and politics.
Favourite food/beverage? I love a beer and an asado (ribs).
If you could have dinner with anyone who would it be and why? I would love to meet the Canadian philosopher John Ralston Saul. In lieu of his non attendance I would love to have dinner with Brian Ferry of Roxy Music or John Taylor of Duran Duran. They are welcome to invite female company.

Where would your ideal holiday be? I love Uruguay. I enjoy its antiquity and laid back feel. It was like Southern Italy on valium. Their passion for football was real, the people were terribly good looking, and there were fantastic retro Fiats and Renaults everywhere. If I should disappear, look for me in Montevideo.

Favourite running shoe? Why? I recently started wearing some Mizuno Wave Rider 12's. Brilliant.
Interesting things we may not know about you? I collect retro football jerseys from around the world. In particular I have a special collection of Nottingham Forest tops dating back to the 70's. My dad's family were from Nottingham and as a child Nottingham Forest were winning everything in sight. The last 20 years have been lean.
Thanks Theo for sharing! And 'twas a surprise bumping into you one night at the bay run. – Editor