Tami Dower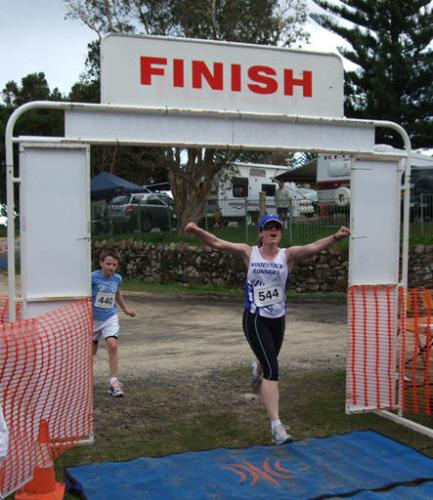 Name: Tami Dower
What is your occupation? Writer
Running age group? 30-35
Do you have family? Is this a trick question? I have family, yes, and am about to acquire a new one to add to my complicated collection (recently engaged).
How long have you been a Woody? About a year now
Do you run on Tuesday night/TNT/Saturday morning? Sat morning
Why do you enjoy running? Because it means I get to eat a Bowan Island raspberry and oat muffin afterwards, guilt-free.
What is your favourite running distance/course/event and why? I love any kind of off-road running, especially where there's a navigation element involved (and I am not the one navigating).
What has been your running highlight? Breaking 47 minutes for 10K at this year's Macleay Marathon running festival.
Any lowlights (injury etc)? Yes. ITB is a swear word.
What was the last race you went in and how did you go? The Macleay 10K but by the time this goes to print it will be the 2009 C2S. I'm hoping to do a bit better than last year when I got 84 minutes and spent half the time dodging prams and walkers six-abreast in the back of the pack.
Anything funny/unusual ever happened to you while you have been out running? I tend to trip over things – tree roots, gutters, small dogs, my feet… Coordination has never been my strong point.
What other sports/hobbies are you involved in? Adventure racing, mountain biking, kayaking, horse riding, skiing, hiking, most things that involve being out in the bush.
Favourite food/beverage? Bowan Island's raspberry and oat muffins – they are to die for.
If you could have dinner with anyone who would it be and why? My fiancé (ooh that sounds weird). Because he is my soulmate and he is like Darryl Kerrigan from The Castle – he thinks everything I make is gourmet, even when it actually tastes like something the cat threw up.
Where would your ideal holiday be? Peru, hiking the Inca Trail, which I will hopefully do next year on my honeymoon.
Interesting things we may not know about you?
– By the time I get married next year, I will have spent almost exactly half my life with my partner (Tristan Iseli, also a Woody).
– I am distantly related to the Queen of England (according to my mum).
– I have a pathetically juvenile sense of humour and am a huge fan of Funniest Home Videos
Note – Thanks Tami! It was a plan to put Tami and Tristan's profile together, however I am not sure what happened to Tristan's piece as I havent received it! Congratulations and best of luck to both of you on your engagement and the new house. – editor