Ross Keys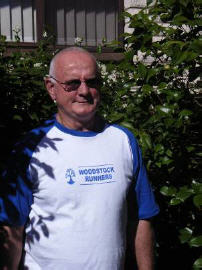 Name: Ross Keys
What is your occupation? Once upon a time I was a public servant IT System Administrator)– Retired for four years, one month and twenty days – and loving it!! I do occasional volunteer clerical style work for Union Aid Abroad – APHEDA (Australian People for Health, Education and Development Abroad). It is the overseas aid agency of the Australian Council of Trade Unions and, while I'm far from being a "lefty" as this might imply, I like the way this agency trains people to look after themselves rather that just pour money into "needy" areas.
Running age group? Over sixties
Do you have family? Two kids of my own living in Fremantle and Mount Gambier – anyone would think they don't want to be near me. Three step children – only one living in Sydney (anyone would think they don't want to be
near me) and I share my life with Christine who, surprisingly enough, and unlike our kids, still lives with me.
Three of our four grandchildren live here in Sydney (Carlingford) so that's a plus eh! But their Mum is threatening to
leave us the grandkids and go join her brothers and sisters. Before that happens Christine and I will escape first.
How long have you been a Woody? Since about 1986
Do you run on Tuesday night/TNT/Saturday morning? That's been a bit of a problem lately. Until about ten years ago I was both Tuesday and Saturday; then I moved to Padstow and stayed with the Tuesday nights. Retirement brought regular Tuesday golf – and after eighteen holes running becomes a task for this 64 year old. Don't get me wrong – I'm still running but mostly in my own time. Saturday mornings I swim with Christine and a mate or two at the local pool. My nick-name at the pool is "Stone" because I swim like one!! TNT nights I'm found at the local Bowlo selling raffle tickets for our social golf club.
Why do you enjoy running? Because, try as much as I do, I can't swim well Truly but, I find running pleasurable in
company because we are people from all walks of life sharing a common interest. I've always enjoyed the way Woodies relax and talk in the pack. I find running pleasurable alone because it's my time to mull over issues that are in my "unsolved" basket at the back of my brain. I find that I solve a lot of problems while running and, this'll sound silly, in the shower too.
What is your favourite running distance/course/event and why? Not that I could do the distance today but I've never not enjoyed a half marathon.
What has been your running highlight? First and foremost is, as a member of the Blacktown Athletic Club, I won the
Metropolitan 1500 meter B Grade Championship on the Sylvania synthetic track back in the early eighties. A stinking hot day and the fact that the would be best competitors had long since gone home because of the heat, in no way diluted my elation at winning that event. As I strode up the final straight with all of the Blacktown team-mates screaming from the stand – well! Maybe both of them – thanks Mum and Dad. Anyway; that was huge.
Breaking sixty minutes in the City2Surf was a challenge and felt great when accomplished. I only did it once and then only by a few seconds but times have never been that important to me. Knowing I'll not break sixty again the City2Surf has been well down my list of priorities for many years. If I enter it these days I'm just as likely to stop at the Golden Sheaf Hotel at Rose Bay for a schooner before completing the run. By the time I get to Bondi the Woodies have usually abandoned the meeting place.
Any lowlights (injury etc)? I no longer run at night as I have no faith in my night vision. I've wound up flat on my face a couple of times – too many (always while running) falling over tree roots etc. in the dark. After the last occasion I spent the night in a Sutherland hospital with a broken nose and several contusions, not to mention my spectacles which were not worth recovering. My worst fall was while running near Queens Park one Tuesday night (15 July 2003) with Kerry B and Marie L. I did a lot of rotor cuff damage to my left shoulder that night and my running confidence, and golf, have never been the same.
What was the last race you went in and how did you go? I really don't know. When I was really running well in the
early 1980s I completed five or six marathons, all between 3:15 and 3:28.
Anything funny/unusual ever happened to you while you have been out running? Two things spring to mind. I was
running with Julie, a colleague and Billy's Bushy out of our St Leonards Office one day when we approached an elderly lady hosing the nature strip next to her footpath. As we jumped the hose and continued running towards Chatswood she yelled after us "You should have left home earlier!!" Gees we laughed. And while on the elderly, after completing one of the Saturday runs one of the Woodies who finished with me asked what time we did. "Dunno
Mate" I replied "wasn't wearing a stop watch".  Overhearing this the then club President, John Dawlings stated "Ross doesn't need a stop watch – he needs a calendar". I love the camaraderie in running but with friends like that who needs etc.
What other sports/hobbies are you involved in? I have a rule that, unless I'm carrying heaps of stuff I will not drive anywhere less that three ks away; so I cycle and walk a lot. I love golf but play it very badly.
Favourite food/beverage? I make the best meat loaf – well! Second best. My mum made the best and I love eating "in". My favourite restaurant is the Orexi at Padstow, a local Greek restaurant which serves the best Lamb Kleftiko.
Beverage: Wine wise I like the reds; particularly Cab. Sav. Or, given the choice, another bottle of Cab Sav.
If you could have dinner with anyone who would it be and why? Benjamin Netanyahu, the Israeli Prime Minister together with Hamas leader Khaled Meshal can come to my place anytime so we, and you're all welcome to come too, can share a meat loaf and show them both how good it is to live in peace.
Where would your ideal holiday be? In 1996 I spent nearly three months in the Middle East communicating with many people of so many different attitudes from aggrieved Palestinians to Orthodox Jews. Though a very moving experience it never abated my concerns for the Peoples of that region. We are so lucky to be here in
Australia. For a relaxing holiday these days I look to the Outback. There is nothing so moving as the awesome Majesty of places like Uluru, the Olgas, King's Canyon, MacDonald Ranges and Katherine Gorge. When you stand alone in any of those regions on a windless day the silence is deafening. In summary, for a relaxing holiday for me, there's no place like Oz; however to try to understand how others live I'll go somewhere off the tourist map. I'm contemplating East Timor. A very need country, trying to encourage tourism, it has an annual mountain bike race, "Le Tour de Timor" which, over five days, looks a bit arduous for this old fella, but……
If you were given super powers, what would it be? I have always dreamed of flying, like, just come out the front door, flap my arms, get above the power lines and head for the Georges River and turn East for the coast. Beautiful!! I hope to be reborn after Man evolves sufficiently to fly (imagine the fuel bills we'd save too!!!)
Interesting things we may not know about you? While I maintain pride in my Irish heritage, there is a lot of
Aboriginality in my family. I have always maintained a keen interest in things indigenous and the Dream Time. In my study I have two Aboriginal paintings. One is of the Wanjina. This is a great rain spirit which emanated from the Kimberleys before our time. The Wanjina is painted with no mouth because, it is such a powerful spirit, it is said that if he had a mouth so much water (rain) would gush from it that the land would be flooded and we'd fail to exist. It is said that the Wanjina emerged, and will return, from the clouds. The occasional similarities between the Dream Time and the world's many religions are not lost on me.
What else? I love real Cricket (no one day stuff for me) and am at the SCG every day of a test match and most NSW (go the Blues) Sheffield Shield matches.
Finally, my motto (which I stole from a local high school) is "Guard the Good".
Thank you Ross for Sharing! I wish I get to speed up my Marathon times like what you had!! – Ed.