Martin Amy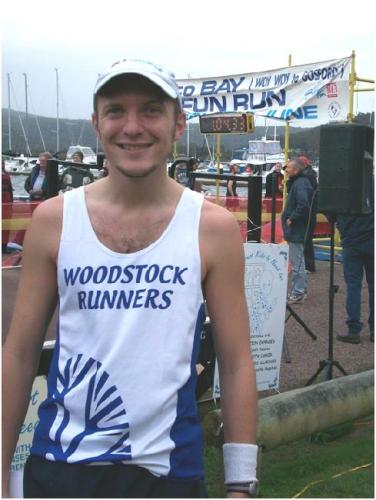 Name: Martin Amy
What is your occupation? Town Planner
Running age group? Aged 27
Do you have family? Yep, parents, older brother, 2 younger sisters (Family all lives in UK). Mum and Dad are member of West Wight runners on the Isle of Wight.
How long have you been a Woody? Maybe 2-3years??
Do you run on Tuesday night or Saturday morning? Normally Tuesday nights, but at moment am a bit scared of the dark!
Why do you enjoy running? Meet new people, find new places, keeps me active
What is your favourite running course/event and why? Not that I've done too many, but for the after party the City to Surf isn't too bad!
What has been your running highlight? At moment completing my first marathon in Canberra.
Any lowlights (injury etc)? Apart for injuries and niggles. Not pushing myself gets me a bit frustrated.
What was the last race you went in and how did you go? I managed to do the SMH Half marathon and just squeezed in under 90minutes
Anything funny/unusual ever happened to you while you have been out running?
Watching Greg Muir run is always quite amusing…. So Emanuel tells me…
What other sports/hobbies are you involved in? I play golf, do a bit of Rec AFL and Oztag in summer
Favourite food/beverage? Spaghetti Bolognese/Milo
If you could have dinner with anyone who would it be and why? Nigella Lawson, of course the reason being that I'd love to pick her brains about her recipes. NOT that she's easy on the eye…..
Where would your ideal holiday be? Anywhere that the weather lets you go outside and enjoy yourself
Interesting things we may not know about you? I score cricket for Sydney University and currently travel the country in the summer with the XXXX Gold Beach Cricket.
Thanks for sharing, Martin!