Manal Garcia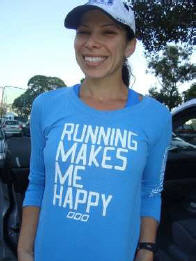 Name: Manal Garcia
What is your occupation? Personal Trainer / Fitness Instructor

Running age group? 35 – 39
Do you have family? Yes an amazing husband (Hector) & 2 boys Tyler & Cameron) ages 9 & 7
How long have you been a Woody? I think since 2003
Do you run on Tuesday night/TNT/Saturday morning? Can't get to any at the moment due to family & work commitments but I run 6 days a week & catch up with a lot of Woodies along the way.
Why do you enjoy running? Running is my time – time to be me not a mum, wife or trainer (if I'm not running with clients). I'm also very self competitive so I love to strive towards bettering my times – having a goal to aim for & ticking it off once it's achieved.
What is your favourite running distance/course/event and why? SMC 10km – might be boring but the repetition suits me, the people are lovely & there's a challenge (best 6 out of 9) which I love.
What has been your running highlight? Gold Coast Half Marathon this year was a great weekend away, for so many reasons – company, course, beautiful conditions & location to race in & I achieved a sub 100 min goal (97:03) which I still can't believe. Last year's full Marathon in Sydney was another highlight. Again great conditions & atmosphere but more importantly the end of 20 weeks of training for a specific race – which was all consuming. I was really pleased with my debut Marathon time of 3:50:33. Another highlight which is sort of running was the Sydney Tower Run Up this year. I won my category in 11mins & won a very decent cash prize as well.
Any lowlights (injury etc)? I've had a few injuries over the years but have treated them fairly quickly & they have resolved themselves within a month usually. Lately I get stitches during races so I'm just working on that. Nothing really to complain about, I'm very lucky.
What was the last race you went in and how did you go? Striders 10km at Homebush – not a PB, around 46mins (trying to get below 44)
Anything funny/unusual ever happened to you while you have been out running? Years ago I ran Tues night & followed the Woodies across the road in Burwood & we almost were run over as a group – can't remember who was there, but it made me very aware of night running ever since.

What other sports/hobbies are you involved in? I weight train at the gym a few times a week & cross train with clients all week so I get mini workouts when I can. My boys play soccer & Little Athletics so I get involved a bit there as well.
Favourite food/beverage? Chocolate, ricotta canollis & a good soy mocca (sweet tooth)
If you could have dinner with anyone who would it be and why? Audrey Hepburn, beautiful, complicated, caring & intelligent.
Where would your ideal holiday be? I've just been to Phuket & that was pretty fabulous – holidays for me have to be warm with a pool, swim up bar, great shopping, great food & entertainment for the kids.
In just one word what is it that best describes you most? happy
Interesting things we may not know about you? I did a degree (BA) in Politics but I have no idea what's going on in the world (OK maybe a little knowledge). I worked in the disabilities field for 9 years before doing the fitness thing. My cooking is not a strong point (though I'm trying harder at that) & I rarely drink alcohol – so when I do I am a very cheap drunk!…oh I recently got a "running girl" tatoo – see pic).. so I'd better keep running forever….
Thank you Manal for taking time to answer my pleas despite of hectic schedule! Too bad I couldn't find a photo of you in Woodstock top, you are excused as you are on the Woodstock color ;)-editor