Luana Ferrara
Name: Luana Ferrara
What is your occupation? Veterinarian Running age group? 50-59y
Do you have family? Mother, brother, sister, nieces and grandnieces and nephews in Oz (plus squillion more in Italy).
How long have you been a Woody? First joined about 13 years ago, but missed about 4 years in the middle of that when I worked overseas.
Do you run on Tuesday night/TNT/Saturday morning? Used to run Tuesdays, now run Saturdays, when time permits.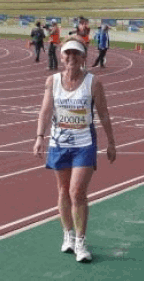 Why do you enjoy running? It's part meditation, part problem solving – love running on my own and just zoning out.
What is your favourite running distance/course/event and why? I always enjoyed the SMH Half Marathon; challenging distance and a good course, but my joints are now telling me to stick to 10k.
What has been your running highlight? The Boston Marathon (home of the original Heartbreak Hill), waaaay back in 1993: 26 miles of enthusiastic, encouraging spectators – such a buzz! And one of my favourite cities.
Any lowlights (injury etc)? Dodgy right knee, creaky left hip – at least it's symmetrical.
What was the last race you went in and how did you go? Blackmores 9k in September. Time of 51m: might be able to get down to under 5.5m ks again!
Anything funny/unusual ever happened to you while you have been out running? Not really but I seem to get asked for directions a lot (guess when you get old, people must think you're harmless) … bitten by a spider, ended up with a very swollen arm (hate cobwebs..)
What other sports/hobbies are you involved in? Yoga, photography, sewing
Favourite food/beverage? Italian anyone? And red wine (it's in the genes)
If you could have dinner with anyone who would it be and why? His Holiness the Karmapa Lama and Louise Sauvage (my favourite ever athlete)
Where would your ideal holiday be? Anywhere there are elephants.
Favourite running shoe/Gadget? Why? Have been running in ASICS forever – they are light and suit my duck feet. Rather like my new hot pink Shuffle – so much easier to run with than an iPod.
Thank you Luana for sharing! Hope you reach those next running goals soon! – Editor