Kerry Bray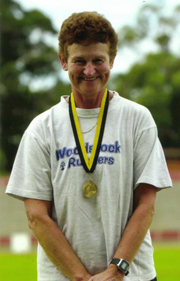 As a resident of Burwood in 1980, I ticked "jogging club" as a possible interest of mine in a survey conducted for the newly opened Woodstock Community Centre. One hundred and fifty people replied likewise, but only five, including Steve Briscoe, my son, Rohan and I, attended a meeting. Nevertheless, we decided to form a group, Woodstock Runners, and our first run through the Appian Way took place in August 1980.
I have always been involved in sport. At school it was athletics, netball and tennis, while squash was my No.1 sport for 16yrs during the time my children were growing up.
Woodstock Runners introduced me to distance running and in 1983/84 I ran 4 marathons and have run many half marathons over the years, as well as numerous and varied fun runs. Injuries introduced me to swimming and then to racewalking, so that, at present, I run, walk and swim and compete in all three.
I have five adult children, who grew up in Burwood, where I lived for 41yrs, before moving to Cronulla almost 7yrs ago. My two daughters live in Cronulla, with three sons spread from Hong Kong to the Eastern Suburbs. They are all involved in sport. I have three grandchildren, with a fourth due in August.
Woodstock Runners has been a big part of my life and I am most grateful for the good times and the wonderful friends I have made through the Club. So many of you have inspired and motivated me over the 23yrs of my involvement. For that, I thank you and I sincerely trust I can always remain interested in running, walking and general fitness.
Kerry Bray