John Dawlings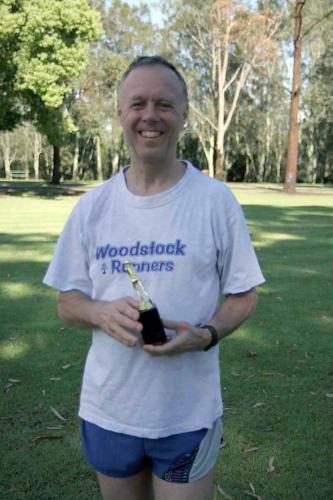 Name: John Dawlings
What is your occupation? Project Manager in IT
Running age group? I've just turned 55 and moved up an age group. I wasn't too slow to win my age group before, I was just too young.
Do you have family? A wife, a 17 year old daughter and an 8 year old boy.
How long have you been a Woody? Rather lost track now but it must be close to 15 years. I joined when my old club, Earlwood Sports Centre, folded.
Do you run on Tuesday night or Saturday morning? Just Tuesdays now. I gave up Saturdays as I found that getting up early to run with Woodstock on Saturdays and then again to do a fun run on Sunday meant that I was tired the whole weekend. It didn't bother me but my family were less than impressed.
Why do you enjoy running? A really hard question. I certainly enjoy the competitive aspect and love racing. I love the atmosphere of suburban fun runs and do as many as I can. I have also made many friends and acquaintances through running and it is always good to meet up with these people. Outside of races, I think that jogging does to me what meditation does to others – it clears the brain out and leaves me feeling mentally refreshed.
What is your favourite running course/event and why? Well I am heading for my 30th City to Surf this year so it would be churlish not to rate it near the top. The Woodstock run was great of course. I put on a run with a friend in Rozelle for a few years which gave me a lot of satisfaction (as well as headaches). Sutherland to Surf is always good for your ego as it gives you seriously inflated ideas of your ability. Bathurst too is good fun.
What has been your running highlight? My best run ever was the Sutherland to Surf many years ago. I ran far quicker than I believed possible, went through 10 kms in under 32 minutes and finished in under 35. I was heading for a similar run once in the SMH half but pulled a hamstring at the 18 kms mark – I nearly cried. Fourth place twice in the world vets road running championships are also right up there.
Any lowlights (injury etc)? Injuries over the last few years have forced me to back right off the intensity I was previously able to apply to my running which has been frustrating but possibly good for my marriage!
What was the last race you went in and how did you go? Had a shocker in the 5 kms track run at Sylvania last Thursday.
Anything funny/unusual ever happened to you while you have been out running? Many but probably best for a separate article. I'll give you copy of my story about being bitten by a dog in the Philippines sometime.
What other sports/hobbies are you involved in? None now apart from being treasurer for the local scouts. In the past I have played rugby fanatically (but not very well), reasonable cricketer and I was a pretty serious schoolboy fencer.
Favourite food/beverage? Beer. That should probably appear under hobbies as well. I love Indian and Thai food and lamb. So lamb rogan josh would be right up there.
If you could have dinner with anyone who would it be and why? Funny this, I really can't think of anyone that I don't know that I would like to have dinner with. Miss World possibly but I'm not sure she would be keen on having dinner with me.
Where would your ideal holiday be? I love visiting the Philippines with my family. One day I want to go to Carnivale but that might have to wait a while.
Interesting things we may not know about you? I once had a job artificially inseminating turkeys.
Thanks for sharing, John!