Jeff Morunga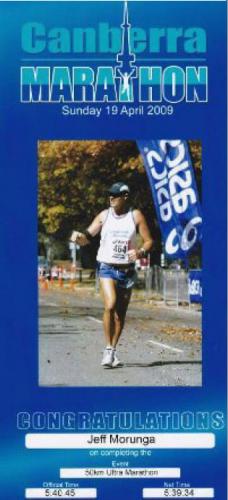 Name: Jeff Morunga
What is your occupation? Sub-contractor
Running age group? 50-59
Do you have family? Yes, 2 brothers 5 sisters
How long have you been a Woody? Member since 1998
Do you run on Tuesday night/TNT/Saturday morning? Runs Saturday Morning
Why do you enjoy running? I run for the social aspect, get fit after driving 12 hours a day!
What is your favourite running distance/course/event and why? Canberra Marathon
What has been your running highlight? meeting people and have fun
Any low lights (injury etc)? no injury
What was the last race you went in and how did you go? Last M7 Cities Marathon, Finished 5.30.33
What other sports/hobbies are you involved in? I like swimming. I am also into model trucks.
Favourite food/beverage? I like Pasta and Milo
If you could have dinner with anyone who would it be and why? Family
Where would your ideal holiday be? New Zealand and Queensland
Interesting things we may not know about you? I'm still single and have two GodSon's Kirby and Joel 4
Memorable experience when running: Held my head high when I turned 50 the day before had surprise birthday cake at pasta party for the 2009 Canberra Marathon then my 4 sisters greeted me at the Novotel for another birthday party, and yes it was a very special weekend and wont be forgotten
Thanks Jeff for sharing! Now we know your secret what's behind the Big "M". All the Marathons you have ran and the energy you get from Milo!