Entering Your Runner Results
Hey All,
As many of you may be aware, our tech whizzkid/bunnies have been hard at work and the results have been fantabulous! If you've not headed to our website recently, there is a now a results database which has all your member results that we've collated over last few years. So you can easily search on any member's results, or your own results.
As member numbers have escalated and with all the runs available for people to enter being now far and wide, it is getting slightly harder now to capture all those results, despite Disco still finding the secret races,  that people may have wanted to keep quiet!
We still want to capture all these so we can see how brilliant and crazy each of you are, where you run, how far or not so far you've run, and of course where you came!
The database allows for you to look up past results based on events, so for example you can look at your whole history of say City to Surf results…. (though don't Kerry started as to the gun or chip time on that one!)
So for your results to be registered into the database you can now submit your results on this website, go to Submit a Runner Result
The information we need for the database for each result is illustrated in the example below:
| | | | | | | |
| --- | --- | --- | --- | --- | --- | --- |
| Name | Event Date | Distance | Event | Estimated Time(Optional) | Actual Time | Comment (Optional) |
| Martin Amy | 2013-02-23 | 10km | Orange Running Festival | 37:10 | 38:51 | 5th O/All & 2nd M30-39 |
You can also (optionally) submit a photo, for example: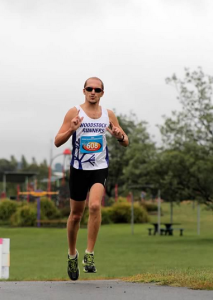 Me at the race, was hurting!
Latest results then become available on a hot, new and sexy page on the Website – see Recent Results –  along with any photos of us showing off in our Blue and White. .
So, for all those who love a statistic or too, this will be a great way to have all yours and your fellow Woodies results at a click/or clicks of a button!
The database has been a bit of a hobby for David "Stats" Miller, who I'm and all those who have seen it develop are massively grateful as it is a great addition to an ever-developing website/club!
If you have any questions, about this new feature feel free to send them through.
A "How To" enter Results will be on the website soon, if you forget how to do it!
El Prez
0404 623 257
Ps. In time, we may look at entering your own results into the database and this via an APP, so watch this space!