Dot Siepmann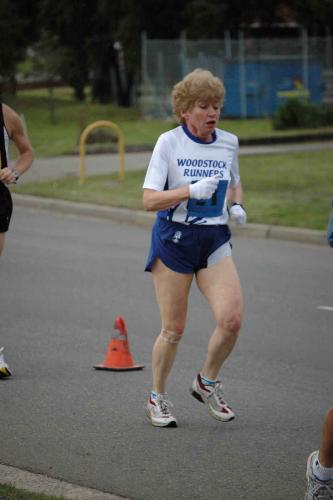 Name: Dot Siepmann
What is your occupation? Retired, since February
Running age group? W60-64, 65 next month
Do you have family? Yes,a sister in the USA (Minnesota). I left the USA in 1971 & came to Australia via West Berlin in 1974.
How long have you been a Woody? About 26 years. I only started running at the age of 37 after attending a "Life be In It Jogging Clinic" at Sydney Boys High School and quickly got hooked.
Do you run on Tuesday night or Saturday morning? Tues night Why do you enjoy running? Getting outdoors, the feeling of movement. I love competing and would not be happy running only to keep fit, although that is a bonus. And I have met so many terrific people involved in running.
What is your favourite running course/event and why? I have a love/hate relationship with the City to Surf. Hate the crowds and waiting around but love the satisfaction of completing it (24 times so far). Also like the SMC series- nice and layback and reliable courses. Also like the straightforward fast course of the Sutherland to Surf.
What has been your running highlight? The Avon Womens Run from Frenchs Forest to Manly that I did in 1984. It was there that I ran my 10 km PB of 39.28. I got a real thrill out of being able to see the leading ladies for most of the run. I also won't ever forget my 4th place in my age category in the World Veterans Championships in Melbourne in 1987. The cheer squad from Sydney could not help but spur me on.
Any lowlights (injury etc)? Yes, various injuries over the years that have sidelined me from time to time. But now it is the fact that I am putting in just as much effort but getting ever slower…..and you discover that the injuries aren' t injuries just the signs of advancing years…..
What was the last race you went in and how did you go? The Sri Chinmoy 12 km at Prospect Creek last Sunday. A lovely course run for the first time on cycle tracks and their welcome pancake breakfast afterwards. My time was nothing special but I enjoyed the run and pulled up well afterwards. Made me a bit more confident about the City to Surf next week.
Anything funny/unusual ever happened to you while you have been out running? I was hit by a car while running on the road near Mittagong many years ago and don't recommend it. I was knocked around a bit- torn shoulder tendons, a cut on my head and ost some skin on the road. I spent a few hours in Bowral hospital getting x-rayed but no broken bones. I was back running the next day.I know I was very lucky and could asily have been killed. It's the best lesson in road awareness that I have had.
What other sports/hobbies are you involved in? I love dancing- Afro Rock, but don't et to do enough of it. And my favourite lazy relaxation is X-word puzzles.
Favourite food/beverage? At the moment, sweet chii calamari, Weis mango & acadamia ice cream or almost any ice cream and McGuigans Black Label Red and milk but not together).
If you could have dinner with anyone who would it be and why? Nelson Mandela. I ave great admiration for someone who has his patience and who has sacrificed so much of his life for his people. I would like to see what makes him tick.
Where would your ideal holiday be? Fiji, running the Bula Half Marathon and relaxing fterwards in a beach chair under a huge frangipani tree in one of their lovely esorts. ( My holidays always include running).
Interesting things we may not know about you? Aptitude tests, as I was leaving high school, told me that I should go on to be a POET.
Thanks for sharing, Dot!