Derek White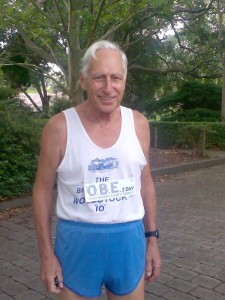 Name: Derek H.R. White
What is your occupation? Retired Master Mariner and hydrographer-cartographer
Running age group? 80 – 85
Do you have family? Wife & 3 daughters (all ex-Woodstock Runners), 2 grandchildren.
How long have you been a Woody? 26 years
When do you run with Woodstock? Regularly Tuesday, occasional TNT & Saturday.
Why do you enjoy running? Health, change of scene, friendships, competition since 1934.
What is your favourite running course/event and why? In years past, half-marathon, 25k, marathon (33), Steeplechase, Cross-Country, 5 & 10k. Now only the last two. Favourite course – Blackheath, NSW.
What has been your running highlight? Going under 4 mins a k. in 1988 Sutherland to Surf, 11km in 43m 22s at age 60.
Any lowlights (injury etc)? SCiatic collapse early 1970's.
What was the last race you went in and how did you go? Heart of the Lake 10k, very muddy, very slow.
Anything funny/unusual ever happened to you while you have been out running? Rescued a possum in Burwood and a tortoise in Canterbury. The possum bit me!
What other sports/hobbies are you involved in? Golf, aeronautical, railway and motor and general history, Music, Carpentry, Trophy design & construction, Graphic art, Scale models, Writing non-fiction.
Favourite food/beverage? Seafood, rum, apples.
If you could have dinner with anyone who would it be and why? H.M. Queen Elizabeth II – Lively conversation with a delightful contemporary.
Where would your ideal holiday be? When young, cycling all over Britain or New Zealand, now, a return to Austria & U.K.
Interesting things we may not know about you? In 1959 I was the first migrant in my family since 1856, when three brothers and their widowed mother arrived in Melbourne. I first came to Australia as a 17 year old Deck Apprentice in a merchant ship in 1946. I am in constant touch with my Australian born cousins, and the descendants of those three brothers.
Thanks for sharing, Derek!