Charissa Patacsil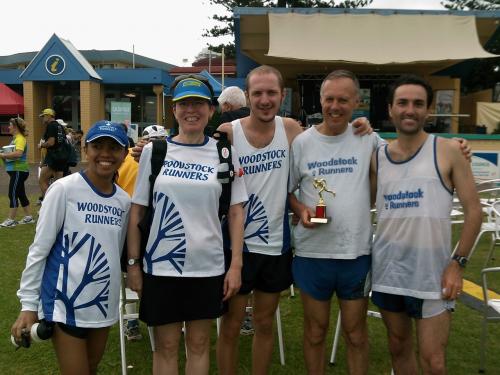 Name: Charissa Laita Patacsil
What is your occupation? Software Support Engineer (corporate slave!)
Running age group? 20-29 (I'm 29)
Do you have family? Dad, Mum and Grandma back in the Philippines with two younger sisters (and 5 dogs and 6 cats)
How long have you been a Woody? I joined July that makes it 5 months
Do you run on Tuesday night, TNT, Saturday morning? Saturday mornings
Why do you enjoy running? It's a stress relief and therapy aside from being fit
What is your favourite running course/event and why? In Australia, so far, course wise I'll say the Iron Cove- Blackwattle Bay-Balmain because its near where I stay and it has good scenery and a share of hills, Event wise, the Blackmore's Sydney Bridge (it is a bit expensive though 🙁 ). In The Philippines, I like the Subic Bay Marathon event, because it's closer to the nature.
What has been your running highlight? So far, since I've moved to Australia, I've shaved minutes off from my running records, so I can say I have been greatly improving. Having had joined Woodstock for me, makes it feel I have a family here specially that I just moved in Oz without any relatives or friends.
Any lowlights (injury etc)? Just learned days ago I got an injury that is related to the Superior/Inferior Retinaculum muscles. Its been going on and off lately
What was the last race you went in and how did you go? The Sydney Marathon Clinic for 10Kms, it went well @ sub 50 at 49:20"81.
Anything funny/unusual ever happened to you while you have been out running? There was one 10KM race back in Philippines where I tripped and fell on the road because of a cat's eye! Rolled twice, got up but managed to finish the race (with bruises, after which work colleagues thought I was bashed somewhere during the weekend).
What other sports/hobbies are you involved in? I play badminton/table tennis and go to the gym regularly. I love travelling and trying to explore Australia as of the moment and I do get to read lots of books/magazines whenever I'm in the plane/train travelling.
Favourite food/beverage? I do love Pizza and I'm a coffee junkie. But I love good food generally.
If you could have dinner with anyone who would it be and why? A bit difficult to choose who, I'd pick the simplest. My (RIP) Granddad, father side, he was a track coach and a Spanish language instructor; I was too young to should have learned a lot from him in running and Spanish. My family is not very athletic in both sides, so it would be interesting maybe I got my inclination of sports from him.
Where would your ideal holiday be? Nowhere in particular, as long as work does not ring me! But I have not visited most parts of the world yet so anywhere in South America, Europe, Mediterranean or Africa will be very nice.
Interesting things we may not know about you? I just migrated to Oz 8 months ago, and lost almost 14-15 Kls in my weight since I started running seriously a year ago, Also I was looking for a women's soccer team for fitness, I was playing for the varsity way back in highschool, but I found running as a replacement for soccer.
Thanks for sharing, Chaia!