Bronwyn Hager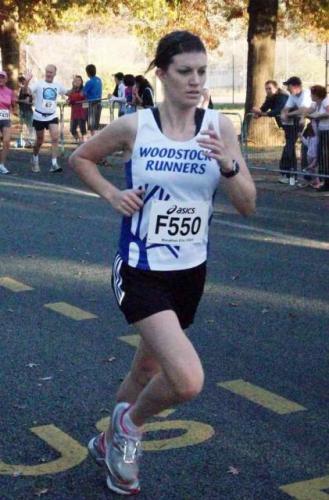 Name: Bronwyn Hager
What is your occupation? Brand Marketing Coordinator for Accor Hotels
Running age group? 20 – 29
Do you have family? Yes, my parents, Linda and Tim, two younger brothers, Simon and Matthew, and one younger sister, Megan, who is also a Woody (when she chooses to show up!). I also have two dogs, Max and Ira, who were guide dog puppies but both failed to make the cut!
How long have you been a Woody? Since August 2008, and also was a member previously a few years ago.
When do you run with Woodstock? Tuesday night & TNT
Why do you enjoy running? I think it's the best way to keep fit and relax after work, and is great for a bit of friendly competition with my sister!
What is your favourite running course/event and why? I like the City to Surf, though I question why every year about half way through the run!
What has been your running highlight? I have a lot of great memories from competing in athletics. I joined Western Suburbs Little Athletics when I was 10, and started training a few years later. My best results were in early '99 when I finished 2nd in the 1500m and 1st in the 3000m at the NSW championships. Travelling to Perth to run in the 3000m at the Australian underage championships the following year was also a highlight.
Any lowlights (injury etc)? No, I have been pretty lucky.
What was the last race you went in and how did you go? SMC in December and I ran a PB for 10kms (43.55), so pretty happy with that!!
Anything funny/unusual ever happened to you while you have been out running? This is probably only funny in hindsight, because I don't think I was too impressed at the time. I remember running at the NSW catholic high schools athletics comp at SIAC one year, and when we were walking out to start the 1500m is was beginning to rain. As we lined up on the start line, it started pouring and the officials decided it was too wet to run and we would have to wait until it passed before starting the race. We didn't realise that 'waiting until it passed' actually meant waiting on the start line in the pouring rain for the next 10 minutes until they decided they better let us run before we all froze!
What other sports/hobbies are you involved in? I used to play netball and also enjoy swimming. I love travelling, though I generally spend more time planning than actually going anywhere.
Favourite food/beverage? I can't go past any chicken dish and pasta. I also love prawns, though am not a huge fan of much other seafood!! I don't really have a favourite beverage, but my Dad has a great wine collection which I enjoy sampling from time to time.
If you could have dinner with anyone who would it be and why? At the moment I would have to say Kevin Moore (new Bulldogs coach) so I can find out how he plans to lift us from the wooden spoon this year!
Where would your ideal holiday be? The next one I am planning is to Mexico and Central America which will have a bit of everything, exploring the Maya ruins, dancing salsa and going to the beach! I would also love to go to South America and back to New York.
Interesting things we may not know about you? I was lucky enough to be chosen to run as an escort runner in the torch relay for the 2000 Olympics. I didn't realise how amazing the experience would be until the day, when I found out I would be running with 4 torch bearers and we had the last leg for the day. The last torch bearer I ran with one of the nicest people I have ever met, and let me carry the torch with him the entire way and light the cauldron to mark the end of the day at a park in Gladesville. It was fantastic and something I will always remember. I was even on TV!
Thanks for sharing, Bronwyn!