Brendan Davies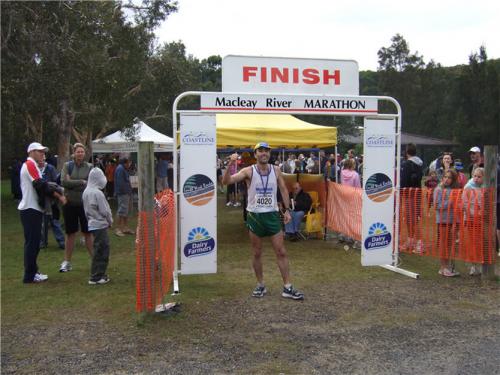 Name: Brendan Davies
What is your occupation? Primary School Teacher
Running age group? M30-39
Do you have family? Yes, my lovely wife Nadine and our 2 dogs, Thommo & Lily (I'm a cricket tragic…)
How long have you been a Woody? Only about a year and a bit, since I relit my affair with running.
When do you run with Woodstock? I'm a regular Tuesday nighter and have started up the TNT-Thursday night training at Campbell Oval. Very occasionally I make it out of bed to get to the Saturday morning run.
Why do you enjoy running? I love the earthiness of running—it's just you and the environment doing something that feels so natural. I love pushing my physical limits and achieving goals that I set myself. Of course I love the friendships formed as well.
What is your favourite running course/event and why? My favourite running course would be anywhere through the Australian bush. I have a few events I really look forward to like Fitzroy Falls Marathon and 6 Foot Track Marathon. I look forward to the City 2 Surf too (just for the sheer volume of bodies.)
What has been your running highlight? Finishing 6 Foot track this year in just over 4 hours was good, but what was even better was watching everyone finish and the emotions on display were pretty special. I just remember sitting back and thinking 'this is why I love running'. Running sub 4min km marathon (2:47) this year was special too.
Any lowlights (injury etc)? Thankfully, not to many injuries (they have yet to catch up with me), a twisted ankle here and there from running on the trails (or the roads around Burwood)!
What was the last race you went in and how did you go? The Fathers Day 5 event at Homebush. I wanted to get a PB and I achieved that in 17:47. It was only a PB by 10 sec but you have to be happy with that! Short distances are not really my forte.
Anything funny/unusual ever happened to you while you have been out running? At the NSW Mountain Running Champs this year half the field took a wrong turn going up a mountain and I ended up finishing 3rd, unfortunate for them! I didn't quite know how to feel! On a long run in Ouvea, New Caledonia this year I had a stray dog follow me for about 12km on this deserted road . The poor thing was so thirsty by the end of it I thought it went into the bush to die! Quite funnily, it came back about 5 minutes later with a coconut it had found clasped in its salivating mouth and began to rip it apart extracting every last bit of moisture from it that it could. I found that funny…a coconut eating dog! Obviously a local!!
What other sports/hobbies are you involved in? I play pennant level squash and get out mountain biking as much as I can. I love travelling, either in Australia or abroad.
Favourite food/beverage? Favourite food has to be oysters, I could seriously eat a thousand of them in a sitting. I love all types of seafood really. My beer of choice is James Boag Draught from the Tap in any pub in Launceston (it doesn't get any better).
If you could have dinner with anyone who would it be and why? I know it sounds a bit corny, but I'd love to pick Rob De Castella's brains over a meal (of low fat-high protein of course!).
Where would your ideal holiday be? Trekking through Asia Minor, Nepal and the Himalayas has always been a something that has appealed to me. If I was looking for a lazy holiday, cruising the Caribbean with no time constraints!
Interesting things we may not know about you? I once weighed 85kg, I am currently wallpapering a wall at home with all my race numbers and I attend a Korean Church, but can't speak a word of Korean!
Thanks for sharing, Brendan!