Barry Cole
What is your occupation? Mechanical Design Engineer (retired)
\Running age group? Hoping you wouldn't ask (70-75).
Do you have family? Long suffering wife Marlene, son Matthew, grand daughter Chloe and sister Bev.
How long have you been a Woody? 22 years.
Do you run on Tuesday night/TNT/Saturday morning? Tuesday night and Saturday morning.
Why do you enjoy running? Enjoy the company of fellow members, it keeps me fit and makes me a better lover!
What is your favourite running distance/course/event and why? 12 km.
Favourite Fun Run – Bay to Bay (Woy Woy to Gosford), no big hills and very scenic.
Favourite Social Run – Kerry's annual Cronulla Run, great bay and ocean views, not to be missed.
What has been your running highlight ? Completing 20 C2S.
Any low lights (injury etc)? Heaps of injuries although in 35 years of running I have been very lucky – nothing major.
What was the last race you went in and how did you go? Bay to Bay 12km on 20 June 2010, 85.24 mins.
Anything funny/unusual ever happened to you while you have been out running? Three things come to mind.
Trying to pass a drag queen in a wedding gown up heart break hill – he reached the top first.
During an early morning run along the bed of the the Todd River, Alice
Springs and coming towards me like a mirage was a guy in a Woodstock
T shirt – non other than ex member Terry Cleary who lives in the Alice.
Taking Eddie McLean to a veterinary clinic with Luana Ferrara and Ross Keys to be cleaned up
after a fall in Burwood Road. Ross asked the Vet to check me for fleas !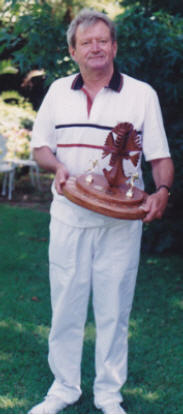 What other sports/hobbies are you involved in? Orienteering, cycling, swimming and bush walking.
Favourite food/beverage? Long black coffee at Bowen Island Bakery after Brett Park.
If you could have dinner with anyone who would it be and why? Billy Joel. As a writer and singer of such interesting and 'down to earth' music, dinner with him would surely be a great experience.
Where would your ideal holiday be? Taking a trip down memory lane to the USA.
Favourite running shoe/gadget? why ? Runners' wrist wallets. Handy when you have no pockets for cash.
Interesting things we may not know about you? After Marlene and I married, we worked and studied (part time) in the UK, Canada and USA for 3.5 years. Quite a honeymoon. Since 17, a life long member of the 'Throttle Twisters' motor cycle club. We still have reunions minus the bikes. Sadly some of the guys and gals are no longer with us. I have bought an acoustic guitar – hope that old saying 'never to old to learn' is true!
Thanks Barry for sharing! Looking forward to seeing you run your 21st City 2 Surf this year!!