Anthony Robinson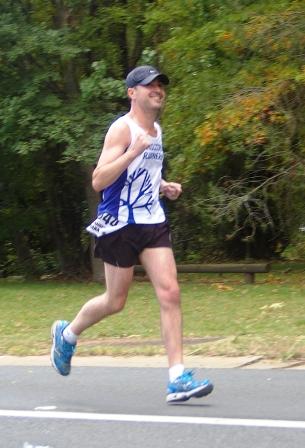 Name: Anthony Robinson
What is your occupation? I'm an internal auditor at the University of Sydney
Running age group? 30-35
Do you have family? My mum and sister are back home in South Africa, but my mom's brother and his family immigrated here about 20 years ago, so I hang out with them quite often.
How long have you been a Woody? Not long, about 4 months now.
Do you run on Tuesday night/TNT/Saturday morning? I regularly run Tuesdays and TNT, and sometimes find I have the energy for Saturday mornings too
Why do you enjoy running? Probably because it's very challenging and I get a real feeling of achievement after reaching my goals, not to mention the endorphin buzz…..
What is your favourite running course/event and why? Well, I don't really have a favourite that I can think of in Sydney, although I really enjoyed some runs around the Vaucluse area just because of the amazing scenery (cliffs, not mansions J).
What has been your running highlight? That's an easy one, definitely completing my first marathon in Canberra within my target time of 3h30
Any lowlights (injury etc)? Injuries are always so frustrating for runners, and I'm no exception. I've had a few problems over the years, notably plantar fasciitis and other foot problems, shin splints and lower back pain.
What was the last race you went in and how did you go? I ran in the NSW Champs 10k last Saturday and did a pb of 42:42 – was obviously quite happy with that
Anything funny/unusual ever happened to you while you have been out running? Well, I did trip on a rock and stack it face first while running on the path next to Anzac Parade at rush hour….embarrassing and painful!!
What other sports/hobbies are you involved in? I enjoy a bit of squash and non-sporting hobbies include reading and collecting books, juggling (I'm not bad actually) and I love animals, especially dogs.
Favourite food/beverage? I would have to say pizza and burgers come a joint first. Beverages would have to be Coke and beer. Healthy hey!
If you could have dinner with anyone who would it be and why? Probably Ricky Gervais from The Office and Extras because he is hilarious, interesting and talented.
Where would your ideal holiday be? Africa, in the Kruger National Park or other game reserve, because there's nothing quite as peaceful and satisfying as a sundowner in the African bush!!
Interesting things we may not know about you? I have done a tandem skydive in NZ, white water rafted in the mighty Zambezi, walked with lions in the wild in Zimbabwe, almost been stomped on by a hippo in Botswana and slept on top of Table Mountain in Cape Town. I lived in London for 4 years before I came over to Sydney.
Thanks for sharing, Anthony!